Products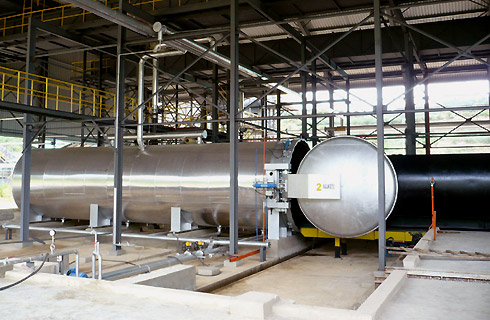 We are a licensed manufacturer of unfired pressure vessels, specially active on palm oil mill and refinery equipment such as Steam Sterilisers, Vacuum Oil Dryers, Deaerators, Water Softeners, Heat Exchangers, Back Pressure Receivers, Pressure Water Filters, etc
Our other in-house products include critical process equipment like screw presses and digesters, ranging from 10 tons to 20 tons capacity per hour, nut crackers, etc.
We are also the manufacturerer representatives for Ultra High Molecular Weight Polyethlene liners used for scraper bar conveyor chain liner and tanks internal shell liners.
On top of this, MJ Group is an authorised vendor / representative for established proprietary equipment manufacturers, namely:
. Weightbridges
. Control and automation
. Valves
. Vibrating Screens
. Conveyor Chains
. Geared motors and gearboxs
. Steriliser doors
. Pumps
. Axial and centrifugal fans
. Empty fruit bunch crushers, EFB shredders and presses.
. Oil Clarification equipment like sludge centrifuges, oil purifiers, decanters, desanders, etc.
. Ripple mills & feeders
. Boilers and Turbine
. Power Generators
We advise our Clients on proper sizing of the required process equipment. Additionally we extend back-to-back guarantees on the performance of the equipment we handle subject to these being operated properly.
Theoretical and hands-on training are given to enhance the operational know-how of the operators.
Spare Parts
MJ Group is a one-stop centre for all spare parts normally required in palm oil mills. We supply spares ranging from locally manufactured castings to OEM components of established imported proprietary equipment.
We work closely with the palm oil millers to ascertain and satisfy their parts needs for supply in time for preventive maintenance, thereby eliminating their holding costs as well as avoiding costly downtime stoppages.
Please refer to Excelmech Engineering for more details about our products and spare parts.
Quick facts
We Grow

We grow together as partners all along the way.

We Focus

We focus on the mission and the goals that are required to be successful.

We Deliver

We deliver what is expected from us and needed in order to achieve what we set out to accomplish.