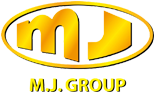 Services
MJ Group's core business is providing the customer with the best in palm oil related industrial services. From the construction of palm oil mills to the supply of machinery, we are certain we have a suitable service for you.
Projects
MJ Group has years of experience in implementing numerous successful projects in the region. This section highlights some of our clients that we have served and provides you with a projects list.
Certification
Apart from MJ Group's expertise and experience in the palm oil industry, we are backed by industry certifications and qualifications. From CIDB Grade 7 to ISO 9001-2008 accredition, this is a list of our qualifications.
Welcome to the Merge Jati Group
Welcome and thank you for visiting the Merge Jati Group corporate website. Merge Jati Group or MJ Group is an established palm oil mill builder since 1999. We have years of experience and have succesfully implemented many proven projects around the region.
Please take a walk at our website and do contact us if you have any inquiry.